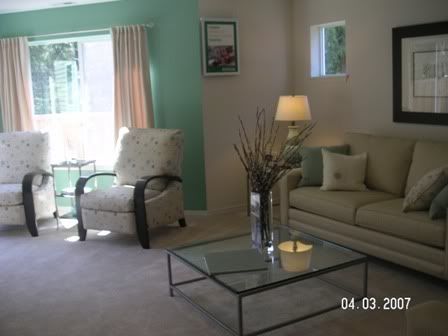 On Tuesday, I viewed some very nice homes about a mile south of Hwy 16 in Port Orchard by Quadrant Homes. Nestled within the community of McCormick Woods, the area is an even mix of both new and existing homes. While the development is fairly new, their neighborhood map shows that most of its Division I lots are sold. However, there are still lots available within Division II.
Some highlights of the model homes I viewed were the lofts that were at the top of
their respective staircases. Although there is an option to make these lofts into an additional bedroom, having a loft at the top of the staircase adds a private living area to the upstairs; which I think is very nice, and it is right in line with Quadrant's claim that their homes "are designed to use all available space as efficiently as possible." (Quadrant Homes booklet p. 3).
Another notable feature is this builder's eco-friendly building practices. According to their brochure, they are a founding member of the Master Builder Association's Built Green Program. Buyers who purchase their homes will also have an opportunity to become "members of a local land conservation organization and contribute to the preservation of natural resources" (Quadrant Homes booklet p. 5).
While all of these points are very good, what I found most impressive about the work ethics of is this builder is that they work with buyer agents, and they respect their client-broker relationships. This means a lot, because it means that buyers can avoid dual agency. After all, the builder is the seller.
This builder has a proprietary homebuying process that includes Community Sales Managers, Home Mortgage Consultants, Superintendents, and Personal Service Representatives. Although they have their own mortgage consultants, the builder states that buyers are free to choose their own lender. I should add, for buyers who are interested in shopping around for the best mortgage rate, that they should go with a lender that is well-versed in new construction lending. If you are considering buying a new home, this would be the first important question to ask any lender outside of the builder's in-house mortgage consultants.
With that being said…

Here are some photos from my tour:

First Home Viewed (2011C):


Second Home Viewed (2323A)

Third Home Viewed (2733B):
Fourth Home Viewed (2431A):